Judith Kuckart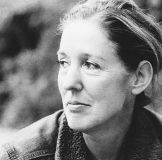 Foto: Gisela Caêsar
Judith Kuckart, born in Schwelm, lives as an author and theatre director in Berlin and Zurich. After studying and training as a dancer, she was the artistic director of the Dance Theatre Skoronel vom 1986 to 1998. Since then she has worked as a freelance director.
With her first novel
Wahl der Waffen
, published in 1990, Judith Kuckart became well-known. She has since published numerous further novels. She als writes theatre and radio plays.