Kenneth Lonergan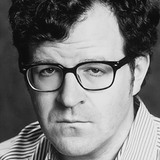 Kenneth Lonergan, geboren 1963, lebt als Bühnen- und Drehbuchautor in New York. Für seine Stücke erhielt er zahlreiche Preise. Sein Low-Budget-Film
You Can Count on Me
, für den er das Drehbuch schrieb und bei dem er Regie führte, war eine großer internationaler Erfolg, der vielfach ausgezeichnet wurde.
Das ist unsere Jugend
Deutsch von Hansjörg Schertenleib
1 D, 2 H
Es ist 1982 in New York, der Beginn der Reagan-Ära. Drei kiffende Teenager aus ...
mehr
» merken
Die Waverly Galerie
Deutsch von Ursula Grützmacher-Tabori
2 D, 4 H
In diesem bewegenden und oft sehr komischen Stück geht es um die letzten ...
mehr
» merken
Das ist unsere Jugend
The New York Times
his Is Our Youth" finds eloquence in the verbal fumbling and listless non sequiturs of ambition-free, overgrown stoners. But Kenneth Lonergan is no mere tape recorder. Like the best "vernacular" playwrights (including David Mamet, August Wilson and, more recently, Clare Barron), he translates what he hears into a heightened form of speech. His dialogue sounds truer to life than life itself, in capturing both the moral evasions and unintended revelations that emerge every time people open their mouths.
The Guardian
As a portrait of a generation of instinctive drifters, Lonergan's play is often very funny. [...] In purely behavioural terms, the play is dead accurate, and Lonergan is not slow to point out that these are all the kids of rich parents who themselves lead pretty messed-up lives.