Lisa Stadler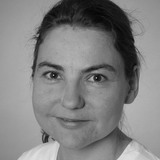 Foto: Angela Brunner
Lisa Stadler was born in Gießen in 1970 and grew up in Zurick. After studying political science in Lausanne, she worked as a journalist for print media and television. In 2003, she began writing audio and stage plays. Her play
Frau Hegnauer kommt
was written during her participation in the young authors' workshop Dramenprozessor in 2005 and was premiered at the Theater an der Winkelwiese in 2006. Her short play
Matrjoschka
was commissioned by the Schauspielhaus Bochum and premiered in May 2007. Lisa Stadler has been Editor-in-Chief of the WWF Magazine since 2010. She lives in Zurich with her family.
Frau Hegnauer kommt
2 D, 2 H
Thomas is terminally ill and wants to take his own life with the help of a ...
more
» merken
Halbkontakt
3 D, 1 H
A healthy relationship, an interesting job, a beautiful house in the small town ...
more
» merken
Theater Theater 18
Aktuelle Stücke 18
Taschenbuch
Sheila Callaghan »Dead City«, Beate Faßnacht »Die Brust von der Frau aus Chur«, Reto Finger »Einer wie ich würde mich vom Springen auch nicht abhalten«, Sabine Harbeke »schonzeit«, Katja Hensel »Ins Weite schrumpfen«, Andreas Liebmann »explodiert«, Anthony Neilson »Frohes Fest«, Ewald Palmetshofer ...
mehr
bei S.Fischer bestellen